Quick profile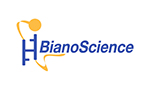 Founded in 2012 BianoScience is focussed on the development of therapeutic oligonucleotides based on RNA-Interference (RNAi) to treat various kinds of cancer. In this regard there is a deep know-how in peptide- and RNA chemistry, synthesis, purification and analytics as well as all state of the art methods in molecular biology. This know-how is not only used in own developments - BianoScience is a service partner for contract research and developments.
Special experiences exist regarding the label-free detection and quantification of short RNA sequences, e.g. siRNA or miRNA - a technology that is especially used in biodistribution studies of therapeutic nucleotides or developments in drug delivery (e.g. lipids, polymers, nanoparticles).
USPs of the own developments are 1) a peptide-siRNA prodrug approach to target cancer tissue and protect organs like the liver and 2) a multitarget-strategy of the siRNA sequence aiming at the prevention of tumor escape during treatment. Own peptide-siRNA drug candidates are in late preclinical phase targeting triple negative mammary cancer as first indication. Intensive biodistribution, tolerability as well as efficacy studies have already been performed. Recently we are preparing and fundraising for GMP-production and clinical development. BianoScience is running a state of the art cell culture and molecular biology lab, a small peptide- and oligonucleotide production and a purification unit with the availability of HPLCs, LC/MS as well as MALDI-TOF-MS.
BianoScience`innovations have been awarded with the 2011 Innovation price of the Bioregions in Germany.