Quick profile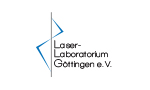 Laser-Laboratorium Göttingen e.V.
The Laser-Laboratorium Göttingen has with its developments achieved in different fields of applied optics worldwide recognition. Research activities range from developing contact-free laser measurement techniques, the production of new products and product refinement using lasers, the development of new laser systems to applications in the life sciences and medical technology.
The sponsoring association Laser-Laboratorium Göttingen was founded in 1987 in the legal form of a registered association, which leads as charitable purpose operating since that time, the institute (LLG) and receives institutional support from the state of Lower Saxony.
---
---